BRAVO 6280 Hammer Mill Shredder

6280 SHREDDER MODULE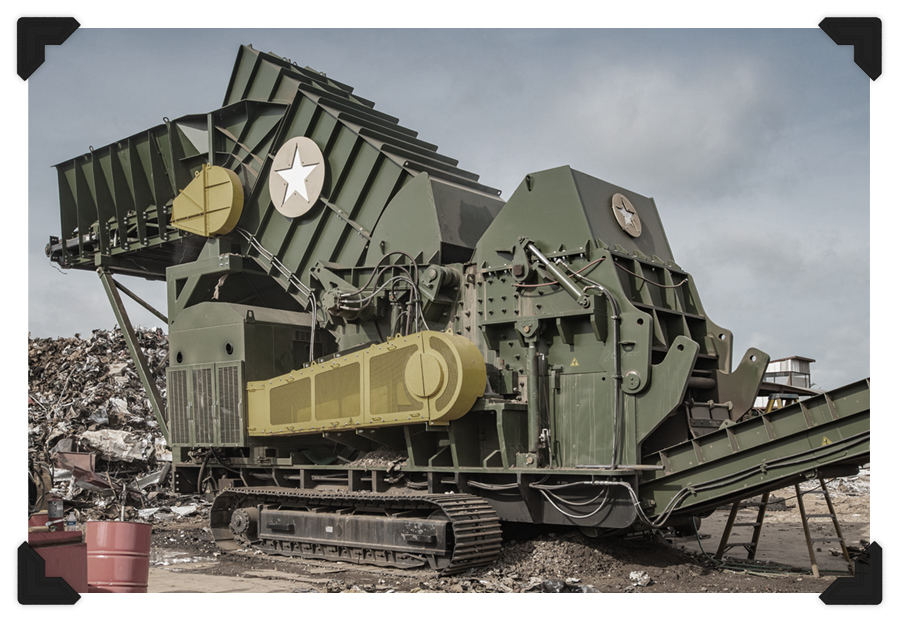 OUTPUT PER MONTH: 1,500-3,000 Tons
OUTPUT PER HOUR: 15-20 tons/hr. in ferrous output capacity (13.7 m tons/hour)
YARDS: 10,000 – 30,000 tons/year
OUTPUT SCRAP DENSITY: 65-70 lbs./cubic ft.
OPERATING COST/TON: Less than $25 USD/ton
3TEK BRAVO 6280 MACHINE WARRANTY: 14 months/2,000 hours
CAT EXTENDED ENGINE WARRANTY: 5 year/6,000 hours Platinum Limited Warranty
ASSEMBLED & OPERATING DATA
WEIGHT: 311,000 lbs. (141,067 kg)
LENGTH: 50'0" (15.2 m) edge of structure to end of takeaway conveyor
WIDTH: 14'0" (4.3 m)
HEIGHT: 24'0" (7.3 m) to top of erected feed chute
LOADING HEIGHT: 20'0" (6m)
CAT DIESEL MODEL/HP: CAT C32 Tier 4 certified @1125 HP
FUEL CONSUMPTION AT RATED OUTPUT: 30 gallons/hour (114 liters/hour)
DEF FLUID CONSUMPTION AT RATED OUTPUT: 0.6 gal/hour (2.28 liters/hour)
BRAVO 6280 MOBILE SHREDDER
GENERAL SHREDDER DETAILS
Disk Rotor design: 4 pin with 9 disks
Width side wall to side wall: 80" (2,032 mm)
Shredder Wall thickness: 1.5" (38.1 mm)
Wear Liner thickness: 3" (76.2 mm)
Feed Chute: 9'7″ (2.9 m) long
Integrated Infeed Conveyor: 19′ (5.9m) length x 6′ (1.8m) width
Single Feed Roll: 42" (1,067 mm) diameter tip to tip with variable speed 6-10 RPM
CAT C32 Tier 4 Certified by factory providing 1125 HP
ROTOR DETAILS
Rotor Speed: 750 RPM
Hammer Swing Diameter: 62" tip to tip (1,575 mm)
Rotor Bearing and Lubrication: 10" (254 mm) bearings with oil bath lubrication and RTD (resistive temperature device) on each bearing for protection
Hammer Pin Diameter: 3 7/8" (98 mm)
HAMMERS
Hammer Weight: 240 lbs. (109 kg)
Material: Cast Manganese
Quantity: 8 is standard
OTHER SHREDDER CASTINGS: GRATES, ANVILS, ETC.
Anvil: 3 Piece Bolt in design
Reject Door: 24" (610 mm) tall. Designed for aggressive discharge of unshreddables
Back Wall: 5.0" thick (127 mm) thick, reversible to increase available life
Reject Door and Back Wall: Angled grate opening to improve discharge efficiency
FEED SYSTEM
INFEED CONVEYOR INTEGRATED
19′ (5.9m) length x 6′ (1.8m) width with interlaced steel belt
RAMP
9'7″ (2.9 m) long, loading height 20 feet (6 m); replaceable AR wear plates under feed roll. Side walls ½" (12.7 mm) thick.
SINGLE FEED ROLL SYSTEM
Feed Roll Speed: 0-10 RPM
Hydraulic Drive: One hydraulic motor driven by closed loop piston pump
FEED ROLL
36" (914 mm) drum diameter, 42" (1,067 mm) outer tooth diameter
Construction: Using one inch (1″) (25.4 mm) thick rolled steel with 3" (76.2 mm) AR (Abrasion Resistant) teeth supported by heavy duty flange bearings
TRACK UNDERCARRIAGE MOUNT
SHREDDER TAKEAWAY CONVEYOR
48" (1,219 mm) wide by 24' (6 m) long belt
PRODUCTION ENGINE
Manufacturer: Caterpillar Tier 4 Certified by factory
Model: C32, 32.1 Liter displacement
Engine HP: 1125 HP @1750 RPM
Engine Configuration: V-12 Cylinder, Four Stroke, Twin Turbocharged and Aftercooled
Intake: Two (2) Donaldson dry type air filters with safety elements and pre-cleaners
Cooling: HD folded core radiator
Fuel Storage: 230 gallon (870 liter) tank complete with float switch
DRIVE TRAIN
SYSTEM CONTROLS
Industry standard Allen Bradley mobile control platform for shredder performance and diagnostic information
Control system with remote master display has multicolored graphical module with easy to read display
Fully functional automatic feed control system designed to maximize production by analyzing machine performance inputs from multiple sources
COMPACT PIN PULLER
BRAVO 6280 Specification Sheet (PDF)
MACHINE MOUNTED FUEL TANK
300 gallon (1,136 L) fuel tank replaces standard 150 gallon for added on board fuel capacity
Mobile Downstream Separation Systems
MOBILE FERROUS AND NON-FERROUS SEPARATION
Single Drum Permanent Magnet: 48" (1200 mm) diameter X 48" (1200 mm) long
Picking Station: 4 man
CAT XQ 125KW Generator Set
Allen Bradley Controls that interface with Bravo and Mobile ECS
Two (2) 20' (6.1 m) ferrous and non-ferrous conveyors included as part of assembly
All mounted on a track chassis
MOBILE NON-FERROUS ECS SEPARATION SYSTEM
Single Eddy Current design: 60" (1500 mm) wide
Drum Magnet: 60" (1500 mm) long
CAT XQ 60 KVA Generator Set
Allen Bradley Controls that interface with Bravo and Mobile Ferrous and Non-ferrous Separator
Designed and sized to align with Mobile Fe/NonFe Separator
One ECS Negative Conveyor included as part of the assembly
All mounted on a track chassis
SUBSCRIBE TO OUR NEWSLETTER
Subscribe to stay informed about our products, services and new advancements.