ALPHA 7400★2100 Hammer Mill Shredder

ALPHA 7400 SHREDDER MODULE
+ ALPHA 2100 POWER MODULE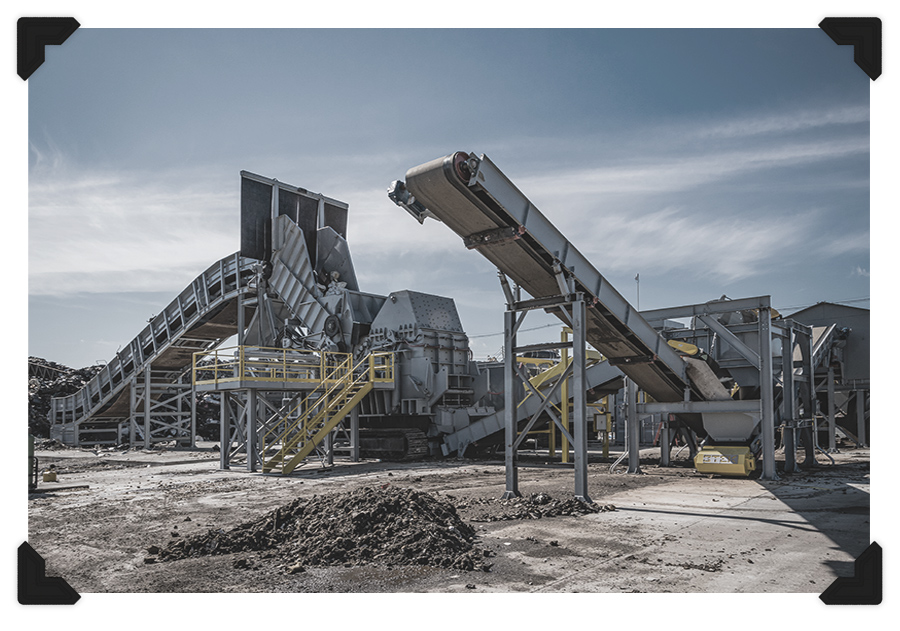 OUTPUT PER MONTH: 6,000-10,000 Tons
OUTPUT PER HOUR: 40 tons/hr. ferrous output capability (36.4 m tons/hr.)
OUTPUT SCRAP DENSITY: 75-85 lbs./cubic ft. (1.2-1.3 m ton/cubic meter)
OPERATING COST/TON: Less than $20/ton
ALPHA 7400★2100 PRODUCT VIDEOS
ASSEMBLED & OPERATING DATA
ALPHA 7400 SHREDDER MODULE
WEIGHT: 411,000 lbs. (186,430 kg)
LENGTH: 34'9" (10.57 m)
WIDTH: 16'0" (4.88 m)
HEIGHT: 29'2" (8.89 m)
LOADING HEIGHT: 30 feet (9.1 m)
FUEL CONSUMPTION AT RATED OUTPUT: N/A
ALPHA 2100 POWER MODULE
WEIGHT: 80,000 lbs. (36,292 kg)
LENGTH: 23'5" (7.13 m)
WIDTH: 15'6" (4.75 m)
HEIGHT: 13'6" (4.10 m)
LOADING HEIGHT: N/A
FUEL CONSUMPTION AT RATED OUTPUT: 70 gal./hr. (265 liters/hr.)
ALPHA 7400 SHREDDER MODULE
GENERAL SHREDDER SPECIFICATIONS
Disk Rotor design
Width (outer side wall to side wall): 100" (2.5 m)
Shredder Wall thickness: 2.0" (50.8 mm)
Wear Liner thickness: Contoured 3.0 to 5.0" (76.2 to 127.0 mm)
Feed Chute: 40 degrees, 24 ft. (7.31 m) long
Double Feed Roll System: feed roll system with variable speed 0-14 RPM
CAT 4.4L Tier 4 certified diesel engine provides power for hydraulic functions & mobility
ROTOR DETAILS
Speed: 720 RPM delivering 160 mph (256 km/hr.) hammer speed
Hammer Swing Diameter: 74" tip to tip (1,880 mm)
Bearing lubrication: Recirculating oil bath
HAMMERS
Weight: 287 lbs. (130 kg)
Material: Cast Manganese
Quantity: 10 to 16, 12 is standard
Configuration: Variable per customer requirements
OTHER SHREDDER CASTING DETAILS & FEATURES
Anvil: Three piece bolt in design
Reject Door: 36" (914.4 mm) tall opens inward
Back Wall: 7.5" (190.5 mm) thick, reversible
Reject Door and Back Wall: Angled grate openings
UNDER MILL VIBRATOR
Vibratory shaker deck collects processed scrap from shredder
Heavy duty construction
Dimensions: 74" (1,880 mm) wide, 182" (4,623 mm) long,
16,000 lbs. (7,257 kg)
Hydraulically powered @ 900 cycles/minute
FEED SYSTEM
Ramp: 40 degree angle, 24 ft. (7.3 m) long, loading height 30 ft. (9.1 m); one inch (1") (25.4 mm) thick replaceable AR wear plates under feed rolls
DOUBLE FEED ROLL SYSTEM
Feed Roll Speed: Variable, 0-14 RPM
Hydraulic Drive: Two hydraulic motors driven by closed loop piston pump
FEED ROLLS
Upper: 42" (1,067 mm) drum diameter, 48" (1,219 mm) outer tooth diameter
Lower: 32" (812.8 mm) drum diameter, 38" (965.2 mm) outer tooth diameter
Construction: Using one inch (1″) (25.4 mm) thick rolled steel with 3" (76.2 mm)
AR (Abrasion Resistant) teeth supported by heavy duty flange bearings
TRACK UNDERCARRIAGE
Size: 385 Class
Track power: provided by CAT 4.4 Liter engine
AUXILIARY ENGINE
Manufacturer/Model: CAT C4.4 Liter Tier 4 certified Diesel
Engine HP: 145 HP @ 1900 RPM
Fuel Storage: 25 gallons (95 liters)
Engine runs to drive track functions and for maintenance purposes only
PIN PULLER PLATFORM
Included as standard with stair access
Hydraulic cylinder mounted to work platform
ALPHA SYSTEM CONTROLS
Control system with master display has multicolored graphical module with easy to read display
Industry standard Allen Bradley industrial control platform for shredder and power module performance and diagnostic information
Fully functional automatic feed control system designed to maximize production by analyzing machine performance inputs from multiple sources
Tethered control box
PRODUCTION ENGINE
Manufacturer: Caterpillar Certified Tier compliant
Model: 3516, 78 Liter
Engine HP: 2100 HP @ 1750 RPM
Engine Configuration: V16 cylinder, Turbo & Aftercooled
Intake: Four (4) Donaldson dry type air filters with safety elements and pre-cleaners
Cooling: HD folded core radiator with mechanically driven fan
Fuel Storage: 150 gallon (568 L) day tank complete with float switch to connect to remote fuel storage tank
Fuel Consumption at rated production: 70 gallons/hour (265 liters/hour)
DRIVE TRAIN
Torque Converter with integrated clutch
Speed Reducer: Two heavy, steel pulleys 20" and 48" in diameter
with twenty (20) 8V belts reducing speed from 1750 diesel engine RPM to 720 shredder rotor RPM. The drive shafts are specifically chosen to handle the shock loads and high torque required during the shredding operation. It is a flange mounted unit with universal joints at each end and a splined slip joint mounted in a heavy tubular construction
Drive Shaft: Heavy duty with U Joints and flanges on both ends
TRACK UNDERCARRIAGE
Size Class: 320
Track Power: Provided by CAT 3516 Engine
The ALPHA 7400★2100 Specification Sheet (PDF)
FERROUS/NON-FERROUS DRUM SEPARATION
Single and Double magnet assemblies available
FOAM INJECTION SYSTEM
Reduces processed material dust and other emissions while reducing water runoff
WATER INJECTION SYSTEM
Similar to above, also for dust control
INFEED CONVEYOR
Standalone eighty eight (88′) foot steel belt utilizing CAT D4 components with fixed support structure. This device couples to 40 degree feed ramp enabling shredder loading at lower height and higher sustained feed rates.
REMOTE DIAGNOSTIC AND PERFORMANCE DATA LINK
Monthly performance data and reports services available
NON-FERROUS SEPARATION SYSTEMS
We offer a complete array of separation solutions that match our shredder output. Please contact us for more information.
Downstream Separation Systems
3TEK SINGLE DRUM MAGNET FERROUS NON-FERROUS DIVIDE
Drum Magnet and Heavy-duty stand: 48" (1,219 mm) diameter, 60" (1,524mm) wide permanent alternating pole magnet for improved separation
Shredder Product Conveyor: 60" (1,524 mm) wide by 25' (7.6 m) long with stainless steel head pulley for direct feed to drum magnet
Ferrous Transfer Conveyor: 36" (914 mm) wide by 20' (15.2 m) long
Non-Ferrous Transfer Conveyor: 36" (914 mm) wide by 40' (7.6 m) long
Over Band Magnet: to recover ferrous not captured by drum. Drive type: Electric
3TEK FERROUS PICKING STATION AND STOCK PILE CONVEYOR
Picking platform four (4) person with conveyor for copper and waste picking (removal)
Heavy duty support structure
Ferrous Stockpile Conveyor: 36" (914 mm) wide by 70' (21.3 m) long
Drive type: Electric
3TEK DUAL LINE NON-FERROUS ZORBA RECOVERY PLANT: 95%+ ZORBA RECOVERY
The 3TEK ZORBA recovery plant is designed to process ASR discharged from the magnet separation process and recover a high-quality ZORBA product, predominantly aluminum with zinc, copper & brass in small (less than 1 ½") (38 mm) and midsize (1 ½" - 3 ½") (38-89 mm) fractions.
Separation technologies used for 3TEK's ZORBA metal recovery:

EcoStar disk screen configured for 3 sizes: Less than 1 ½" (38 mm), 1 ½" to 3" (38-89 mm) and 3"+ (> 89 mm)
Eriez Rev X Eddy Current Separator – Small & Mid-fraction

Conveyors and Platforming:

Non-Ferrous takeaway conveyor - 36" X 50' (914 mm X 15.3 m)
EcoStar Screen Platform and Supports
Eddy Current Separator Platform and Supports – 30' X 13' (9.1 X 4 m) platform 8 ½' (2.6 m) tall
Three (3) ASR transfer conveyors (36" X 30') (914 mm X 9.1 m) – small, medium and large fractions
Two (2) vibrating feeders for Eriez Eddy Current Separators
SUBSCRIBE TO OUR NEWSLETTER
Subscribe to stay informed about our products, services and new advancements.